Cloonty Pruglish
From Irish Climbing Wiki
Cloonty Pruglish Guide- August 2010
Cloonty Pruglish, (also known as Trumpaun?) is an impressive crag situated on the western side of the Glenade valley, that runs from Manorhamilton to Bundoran, near the Sligo, Leitrim and Donegal borders. It is briefly described in the old Sligo/Leitrim/Cavan/Fermanagh guide-book. The excerpt reads "Very large and impressive East facing crag for the 21st century" !
ACCESS: It is, fundamentally, part of the northeastern escarpment that circles the Benbulbin/Truskmore plateau. The unique features of this crag make it almost invisible from the road, unless you are looking for it. The easiest way to find it is to get a 1:50,000 OS map of the area (sheet 16) and it is clearly marked by funky contour lines, and its name at Grid ref- G783478. If traveling from the south, up through Glenade, take the first back road on the left after you pass the lake. Follow this for about a mile, and then take a gravel road on the left, which takes you to the southern end of the feature. (Marked on the OS map by 'Black river') Follow this till you can go no more, ensuring to take care of Mr farmers gates. There is plenty of parking just before crossing the stream. Follow this road by foot to its end at a small quarry (15 mins), and then follow your nose up into the spectacular valley. Whilst the approach up into the valley from the other (northern) side appears more direct, it is best not to use it for the time being, as it crosses direct through a farmers fields. It isnt any shorter in time and there is not suitable parking at the roadside. It is advisable not to bring dogs as there is a lot of sheep in the area, and local farmers aren't that comfortable with it. Whilst steps have been made to generate a good relationship with the farmers, access is through private land, so could be declined at any time. Diligence and politeness to any passers by is the best approach. It has been requested that ropes not be left hanging on the crag, in fear of encouraging others! Overnight is probably fine.
CRAG ETHOS: Two recorded climbs in the valley from the 60's are probably still waiting second ascents! One climbs the detached stack along the southern arête and was done by Emmet Goulding, Paddy O Leary, probably along with Ciaran Moore, Jem Tobin. The second 60s route tackles the massive chimney/corner on the main face. They considered the main face to be better suited to the next generation of climbers and equipment! It seems that one of the reasons climbing has not been developed at this venue is the nature of the crag 'top-out'. As the limestone ledges taper off the top and graduate into bog land, it provides a very loose, un-protectable band of potentially terrifying ground; enough to detract from any route. Further more, the nature of the rock doesn't provide much in the way of safe, natural lower-offs, without leaving trad gear behind. This has been the main rational behind the decision to place ringbolt lower-offs at the top pitches of each route. There is a good selection of crack lines splitting the main wall, from about hand size to hairline, offering technical climbing, on reasonable gear. The ethos of the development has been to climb lines traditionally, if possible, and equip belays with glue in ringbolts so as to provide safe retreat. In some cases, ringbolts have been placed as runners, where gear is non-existent and moves are hard, or to keep a route 'balanced' (ie. To keep the grade relatively consistent/safe for the entire route). There are (and will be) routes which are obviously sport lines, and have been equipped and graded so. These are lines that are otherwise un-protectable. Many of the lines have been developed with a top down approach, which is not always ideal, and some mistakes have been made with bolt placements. The intention is to keep this to an absolute minimum. A lot of work (and cost) has gone into the development thus far, which can be attributed to much effort from a handful of individuals who have had the motivation to get involved.
OTHER INFO The climbing style is mostly technical, thin crack and face climbing. Gear consists of tiny (rp's etc) to medium wires and tiny to medium cams. The rock can be brittle in places, placements have 'blown' and handholds have snapped! The climbing has an adventurous feel and should be treated as a mountain crag. A helmet is recommended, and although loose rock has been removed, when and where appropriate, there is more. Heights of belays/lower offs haven't been measured yet so use your own judgment when abseiling regarding distance to the ground. Generally single ropes will do, as most lines are straight up, but watch out for very sharp edges on the ledges. Perhaps trail an extra rap line until belay heights are worked out. Any such Beta is welcome to be added to route descriptions. A star denotes a good route. Whilst effort has been made to 'clean' routes, many crack lines will remain grubby, until further climbing traffic. It would be helpful to bring a brush and give a clean on descent. Take care on the boulder-strewn base; there are many of sharp, and wobbly blocks. Keep an eye out for great fossils; I have seen a Seahorse somewhere! Nice picturesque camping exists on the southern end of Glenade lough at a slipway, or else just at the ruin by the 'high security' gate on the road up to the crag. Again, this is farmer's land, so use discretion. This guide is a work in progress and is open for amendment and updating as time goes by. Just change the date at the top if an alteration is made.
Thanks to all those who have shown interest, and made an effort to come up and get stuck in, thus far. There is room for many more……….
ANDY THOMPSON Ph. 086 1732197
COSY CORNER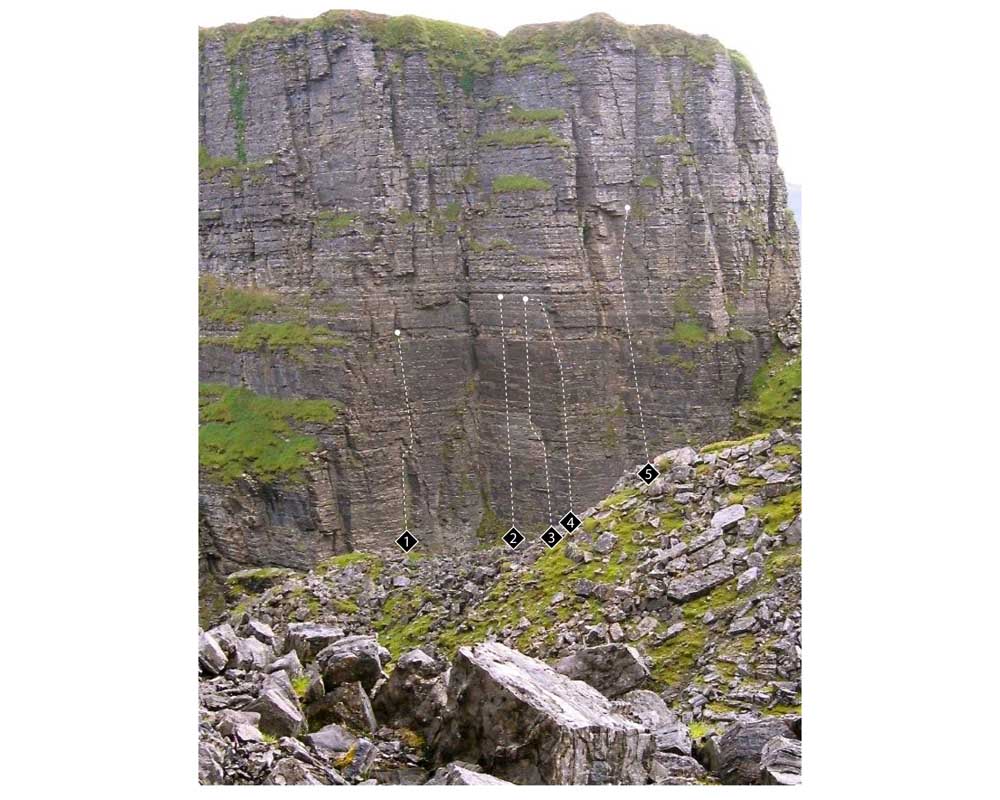 On the right-hand side of the valley, the western face of 'the stacks', you'll find Cosy Corner. These were the first routes developed, starting with 'Sweet Afton' in 2004. Just as you start to drop down out the north side you'll see an obvious big corner on your right. Nice and sheltered from the wind, it gets afternoon sun. "High Ideals…." and "Launchpad…" are well worth seeking out. Routes described left to right.
1- SWEET AFTON- VS
The left hand wall provides one obvious route directly up to a niche at about 15 m. Lower-off (2 RB's)
2- HIGH IDEALS & CRAZY DREAMS - E4 6a * 25m
Takes the obvious thin crack about 5 m right of the big corner. The left route of the face. Hard thin climbing on adequate (small) gear leads to easier climbing above. Pass 1 RB and launch upwards through the overhang to the anchors 2 RB's. Exciting!
3- MIDDLE MAN- E3 5b ? needs confirmation. 25m
A bit vague on this. Climb leftwards up chossy looking crack/ramp, then straight up to anchors (2RB's) past 1 welcome RB on route. Awaiting the direct start!
4- LAUNCHPAD TO HYPERSPACE – E2 5b * 25m
Zig-Zag up the arête on the right hand side of the face, past 3 RB''s, until level with anchors of MIDDLE MAN, then traverse left. A nice, 'sporty' route.
Kev Power on the arete of Launchpad To Hyperspace
5- CHOSS MONSTER E1 5a? 30m?
5 m right is another large loose looking corner. Climb the cracks on right hand wall of this until you can gain left trending corner under some roofs. Launch up crack on right hand wall to grassy ledge level with roof. 2 RB anchors. Not as bad as the name suggests, or it looks!
Kev Power leading Choss Monster, E1 5a
THE MAIN FACE- Left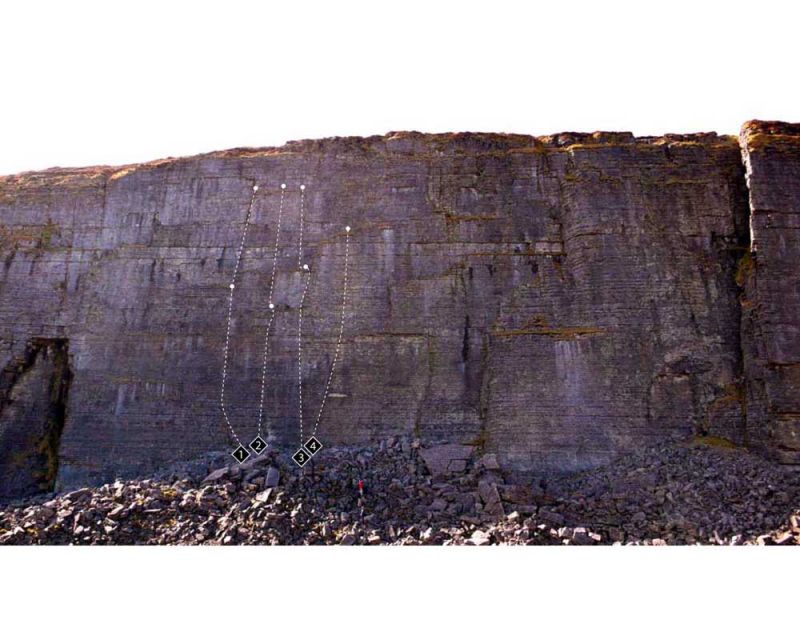 The main face is THE reason to climb here. It is (approx) 60-70 m high and about 400m long. There are sections of good clean rock, mixed with sections of choss. A deep corner splits the face into two obvious sectors, the right of which offers somewhat less climbing options, it seems. The climbing developed thus far is on the face to the left of the corner. The first 4 routes climb the longest clean section of face with the least amount of broken ground. The face gets morning sun, and whilst the rock is quick to dry after rain, the cracks can remain slimy for longer. Still, warm, cloudy weather equals lots of midges! Routes described left to right.
1- EAGLES HIGH - E3/4 6a
The first line that was done on the main wall. Climb up and left from the base of TRIGGER HIPPY until under the obvious crackline that runs all the way to the left side of grassy ledge where a 'triangular block' sits 5 meters from the very top. (When standing back from the wall this block looks like an eagles head).Launch straight up past some bold wall climbing, past an obvious horizontal break, and up the crack to belay ledge (2 RB's). Follow the crack to finish. A bit dirty, but nice. (E2 5b)
2- TRIGGER HIPPY - E2 5b, 7a+? * (Awaiting grade confirmation)
Climbs the obvious crack that continues from the top of a right facing corner/pillar. Nice crack climbing to belay (2 RB's). Sport Pitch- From here, a few hard moves (crux) leads to another ledge (and belay- ignore this!) and forage a way up the wall above. Nice face climbing. File:Triggerhippy
3- 21st CENTURY FOX – E4 6a *
About 5 meters right of Trigger Hippy 2 cracks almost meet at ground level. The left hand one gives hard, thin climbing. Climb through the steep lower section to easier ground and a grassy ledge. Climb the right leaning corner to belay (2RB's). Step left, clip one RB and launch upwards through 2 more small roofs to end on the right of grassy ledge. Sustained. RP'S, small/med wires, and small cams.
4- WAYFERER – unclimbed
The right of the two cracks that almost form a V at ground level.
5- E3 5b
Climbs the groove 15 m right of WAYFERER
Kev Power on the first ascent of an E3 5b on the main face of Cloonty Pruglish
THE MAIN FACE-Right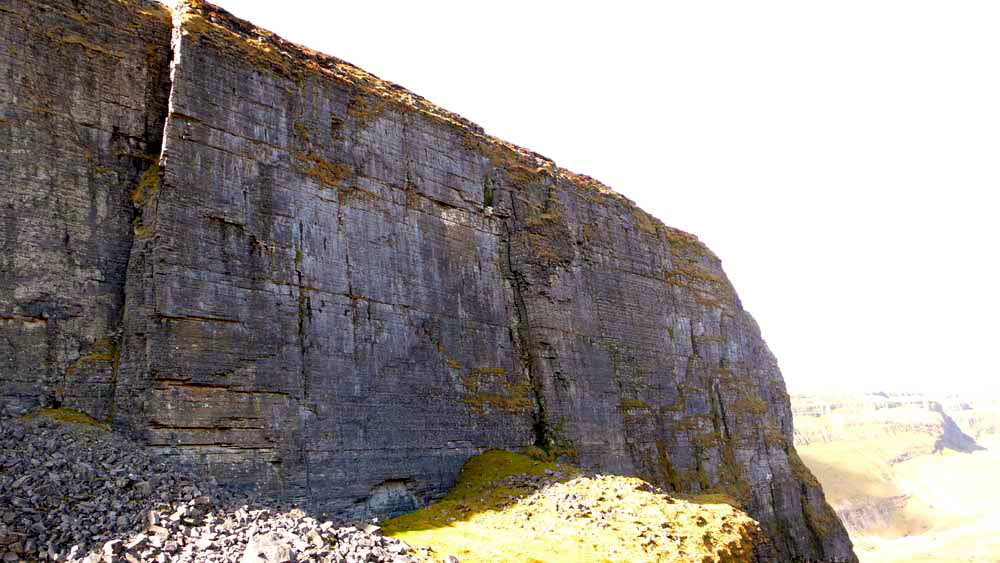 to be continued……… --Deargmhor 20:09, 22 October 2010 (UTC)