Whiteball Head
From Irish Climbing Online Wiki
<display_map> 51.594153, -10.050112~Whiteball Head</display_map>
Whiteball Head is the headland to the north-west of Blackball head. 5 kilometers from Dzogchen Beara and right beside a beautiful bay with a quay the climbing is positioned in an idyllic spot. Park at the quay and approach the cliffs from the rocky beach passing a house and sheds on their left. The walk takes about 5 minutes.
The climbing is mainly on steep slabs with small edges and slopers. The friction is superb and the rock is excellent. Unlike Blackball Head to the south (which is grass topped and requires stakes) Whiteball Head has lots of natural blocks for abseil anchors.
A 15 meter slab to the west of the routes noted below was climbed and went at easy v-diff. The zawn to the west of this has some deep-water soloing potential. There is further potential on the slabs to the west of these routes.
Camping is possible on a flat grassy area beside the road about 200 metres east of the pier.
The Approach
---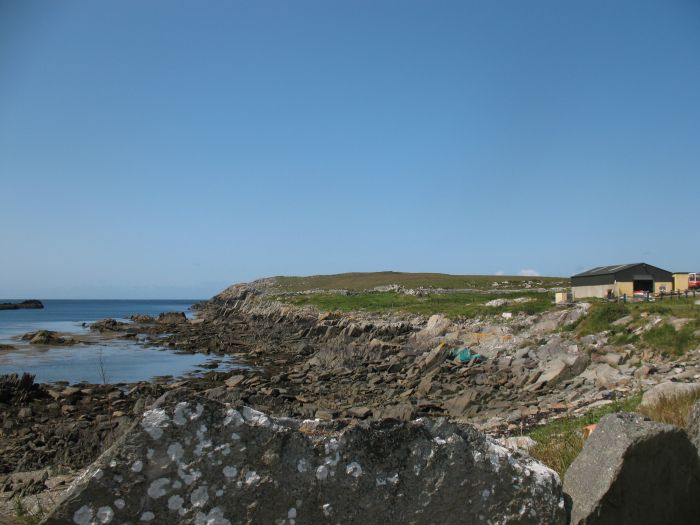 The Slab
---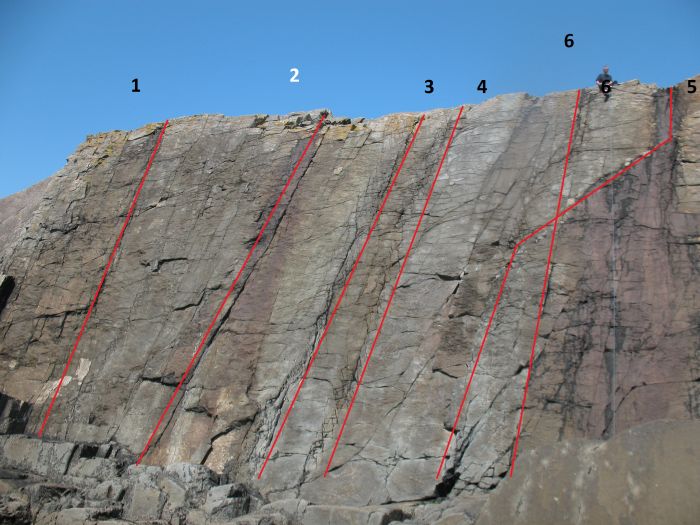 The Routes
---
0 Grey Crow V. Diff 12m - The thin line left of Left-Hand Route. R. Creagh 05/11/14
1 Left-Hand Route HS 14m T.O'C 5/5/11
1a Shirtless in November VS 4b 14m - Start beneath the left hand end of a small roof about half way up. Climb directly to this by the crosshatched rock, around the roof and straight to the top. R. Creagh 05/11/14
1b By the Grace of John VS 4b 14m - Climb the thin line to the right hand end of the roof, move left and over the roof and back right towards the top. R. Creagh, S. Hermann, J. Healy 12/05/13
2 Beara Thin Crack VS 15m - Beautiful hands-to-finger crack, very similar to Thin Crack in the Mournes. T. O'C 5/5/11
3 German Bean Sprouts HVS 15m - Thinner version of route 2 with perfect jamming and smearing. T. O'C 5/5/11
4 Spanish Cucumbers E1 15m - Thin crimping with delicate smears. T. O'C 5/5/11
4a HS 4b 15m - Climb the corner left of that of The Ramp and move right to finish as for the top of Woodcutter. D. O' Sullivan, R. Creagh or J. Healy, March 2013
5 The Ramp S 20m T. O'C 5/5/11
6 Woodcutter E1 15m - Thin smearing and crimping with a good rest at the ledge. T. O'C 5/5/11
7 Sophia VS 4b 15m - Climb the line right of the wet streak, passing a horizontal slot at 3/4 height. R. Creagh, D. O' Sullivan 15/03/13
8 Twomey's V. Diff 15m - The line on the right end of the crag, straight to the top. R. Creagh, D. O' Sullivan 15/03/13